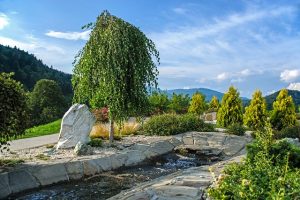 A sensory garden is designed to maximise the experience of visitors and is an excellent addition to any space. These gardens are known to provide outstanding health benefits and are ideal for people with disabilities, autism, or mental health issues, especially in a school for disabled children.  So keep reading our useful tips if you would like to create a delicious feast for all of your senses to enjoy in your home's outdoor area.
Space and Location
A sensor space or garden can be whatever size you want it to be ranging from a large open area to a window box. However, you still need to choose the right location for it.
If some of your visitors have limited mobility, then you need to consider whether your proposed garden location would pose any problems for them. If it does then you need to ensure that you have suitable flooring or ramps to reduce the risk of hazards.
To ensure that your garden is even more accessible, make an investment in wooden planters or raised beds. They are ideal for people in wheelchairs, and plants are raised up to a comfortable level for them.
Sight
When you are designing your outdoor space, make sure to incorporate brightly-coloured flowers into your design. They are very important for adults and children who have visual impairments, and also gives your garden a beautiful backdrop.
Hydrangeas are a good flower to plant since they produce colourful large blooms that are nice to touch. You should also consider planting sunflowers. They provide tall floral displays which look very striking when used for edging pathways.
Growing vegetables is another possibility. Ornamental vegetables such as Swiss Chard are easy to care for and are attractive with their many multi-coloured leaves and stems.
Smell
Have sections marked out for aromatic plants when planning your sensory garden.
Sweet-scented flowers such as honeysuckle and lavender are excellent choices and feature distinct aromas. Chocolate cosmos is another popular choice and a big hit with kids since it has a chocolate-vanilla mixture smell.
Consider contrasting smells if you really want to mix things up. Curry plants and lemon-scented geraniums add spicier scents and provide curious visitors with plenty of stimuli.
Sound
Choose sounds for your garden that are either stimulating or relaxing for visitors.
Having a water feature in your garden is great for wildlife and birds allow the soothing running water sounds to provide your garden with a natural soundtrack.
Adding sound fences or wind chimes can provide extra ambiance as well. A sound fence can be made out of recycled household items like plastic bottles, pipes, or tubing.
Taste
Make sure you plant vegetables and flowers that are safe to consume.
Your safest bets are peas and herbs. However, for an added twist, you might want to consider planting varieties that are more unusual to spice up the edible section of your sensory garden. Two delicious examples are Orange Thyme and Siberian Chives, and your visitors are sure to be delighted by them.
Edible flowers such as Pot marigold and Nasturtium are delicious to eat as well as being beautiful.
Touch
Make sure your sensory garden has a touch-friendly section as well as it will enhance the experience and be very popular with both adults and children.
Soft leaves such as Lamb's Ear are very pouplar in gardens, in addition to Mexican Feather and other ornamental grasses. Consider mixing the sensations up to get an even better reaction from your visitors.
However, when it comes to spiky plants you need to be cautious. If you are including plants with thorns or cacti some visitors will need supervision.